Fan Catches Foul Ball, Fielder Steals Glove and is Awarded Catch!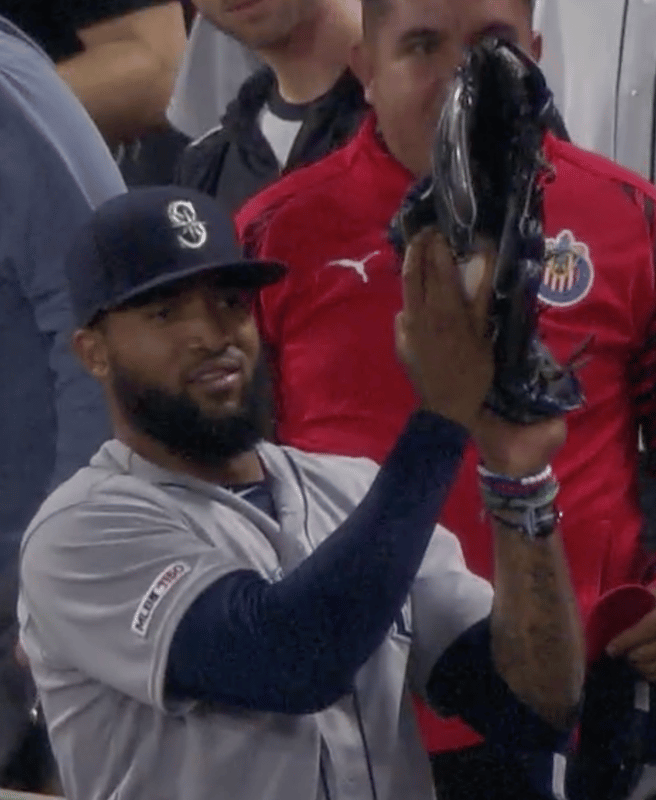 On June 7, 2019, the Angels and Mariners played in Anaheim. M's right fielder Domingo Santana made a catch in which he ended-up with two gloves.
Here is what happened.
Jonathan Lucroy led off the bottom of the fifth facing Marco Gonzales and hit a fly ball down the right field line that was caught by Mariners' right fielder Domingo Santana, who reached into the stands to make the catch. He snared the ball and ended-up with the ball in his glove as well as the fan's glove. He was awarded the catch by first base umpire Ron Kulpa.
""I was just trying to catch the ball. I had a really good beat on it," Santana said to MLB.com. "He put his glove right between my glove. So he caught it for me, basically, and I caught his glove. I wanted that catch. I wanted that out for Marco."
The question is, did the fan first make contact with the ball on the spectator side before Santana made the catch?
I'll let you role play this one. You will be in the Replay Center in NYC. You will have three choices: (1) confirm the call on the field; (2) call it a dead ball and rule "no catch" because the ball touched the fan on the spectator side of the wall; or (3) you see no clear and convincing evidence and stay with the call on the field.
Link to video:
https://www.mlb.com/video/santana-makes-grab-steals-glove
Expert Interpretation by Rich Marazzi

If the fan touched the ball on the spectator side of the wall, the ball was dead. If Santana handled the ball himself before the fan made contact with him, he would be able to make a legal catch on the fan's side of the wall as long as he held on to the ball.
Santana actually stole the glove from the fan.
I think the Angels' manager certainly should have challenged.
If a fielder extends his glove on the fan's side of the wall and makes an "apparent" catch immediately before a fan removes the ball from the fielder's glove prior to an intent to transfer, the catch should not be allowed. Fielders in such situations need to free the glove away from the spectator side of the wall ASAP. This has occurred several times over the years.